Latest Posts
How do we go about Measuring Success in our child's life?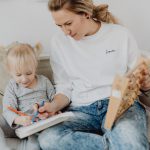 Parenting Skills is a very tough subject for anyone to discuss as we all have our own unique parenting style.
At age 3, a female prodigy (we'll call her Jane) was composing music. By age 6, she had played at […]
1) Get to the child's eye level when you are communicating with your child ; it helps to build a […]
Mobile phones were once upon a time considered a luxury for adults and a way of communication as well. It is however now also seen in the hands of children, who watch cartoons, listen to music and also play games. When is the right time to give mobile phones to your kids? Read on.
Child development and learning imply teaching a child everything from scratch, including music to coloring.
It's no wonder that sleep forms an integral part of daily routine of one's life. During early development, sleeping is usually considered as the primary activity of the brain.
When it comes to understanding baby development, one of the best ways is to get baby development books for parents.
Parents looking for ways to help their Child Development in creative and fun ways should understand how their kid's brains work and what children are interested in.
Do you believe that Child Psychology is misunderstood or overlooked by some parents?