Category: Daily Care
When your baby arrives, he brings so much love and affection with great joy and happiness. But he also brings a demand of undue care and proper responsibility.
The day has come and today you are a proud parent. There will be times when you may feel nervous and also excited at the same time at the thought of taking care of your baby. This something that is felt by all new parents.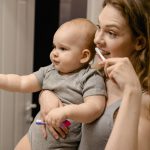 A child needs proper dental care immediately after the appearance of tooth.  It is important for parents to take adequate care of child's teeth as the first teeth plays a significant role in the healthy growth of permanent teeth. A small child is unaware of the affects of eating habits and diet on his dental health. It is your responsibility to make your child understand the importance of healthy eating. By adopting various techniques and tips, parents have to inculcate in their child good eating habits.